Teaching Staff - Tainui
Larissa Schumacher
Role
Teacher Room 5
Email
General Information
Kia ora koutou. After six years teaching at Cambridge High School, I am very excited to be moving back home and returning to Morrinsville Intermediate, a school I attended as a child, but this time as a teacher! I am looking forward to sharing my passion for learning with my students and helping them to grow as awesome young adolescents.
Music is the major love of my life. I play the clarinet, saxophone, euphonium and percussion, as well as conducting too. If I'm not at school, I'm probably at a band rehearsal! I also love to dance, read, garden, or try something entirely new! I believe that we feel the most joy when we succeed at challenges that we have set ourselves, and that is a motto that I strive to live by every day. I look forward to meeting you all in 2021!
Sally Armstrong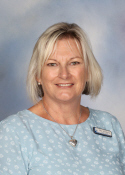 Role
Teacher Room 6
Email
General Information
Kia Ora
My favourite quote is 'Life is a journey, not a destination' and in my teaching career I can honestly say that I have been on an incredible journey of learning many new things and I am still learning.
I am passionate about teaching, particularly Literacy, Maths, and The Arts. During my time here at Morrinsville Intermediate I have been fortunate to have made many life-long friends, have enjoyed working alongside some great teachers, experienced two school exchange trips to Japan and one to Noumea and I thoroughly enjoy teaching a great bunch of students from the Morrinsville area.
I look forward to meeting with you all.
Sally Armstrong
Kyla Butcher
Role
Teacher Room 7
Email
General Information
Hi, my name is Kyla Butcher, as we are about to embark on a year of teaching and learning together, I thought I would start this journey by sharing a little about who I am. I am a mum, an educator and a coach. I have been teaching for 20 years and have been fortunate enough through teaching and playing sport to have travelled and lived in some amazing places in the world.
I look forward to meeting you all!