Sally Armstrong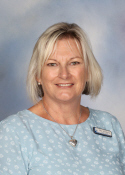 Role
Teacher Room 6 (Mon - Wed)
Email
General Information
Kia Ora
My favourite quote is 'Life is a journey, not a destination' and in my teaching career I can honestly say that I have been on an incredible journey of learning many new things and I am still learning.
I am passionate about teaching, particularly Literacy, Maths, and The Arts. During my time here at Morrinsville Intermediate I have been fortunate to have made many life-long friends, have enjoyed working alongside some great teachers, experienced two school exchange trips to Japan and one to Noumea and I thoroughly enjoy teaching a great bunch of students from the Morrinsville area.
I look forward to meeting with you all.
Sally Armstrong