Julie Tesselaar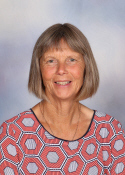 Role
School Secretary
Email
General Information
I have been employed at Morrinsville Intermediate School for the past 17 years as School Secretary.
It is a pleasure to get to know the students through the year and greet parents, caregivers and visitors to our school. My role includes front of office for all visitors to the school, directing incoming phone calls, recording student attendance and attending to students who require assistance in the First Aid room.
I am married and have three adult sons. During the weekends we spend our time supporting our boys in their sport of motorbike cross country racing, enjoying the beach, fishing or at home on the farm.